Hi



Welcome to old friends and new subscribers! As is often the case in this part of Montana we went from winter to summer mostly skipping over spring. That's an exageration but we did have a cold wet spring. Had several inches of snow on June 10th and now the temperature is in the 80's with higher temperatures in the forecast.


I shouldn't complain - we haven't had tornados or flooding to contend with. I hope you have great riding weather this summer and fall. My pages on Horseback Riding Vacations have received quite a bit of attention lately.


Hopefully if you come across a great vacation idea the price of gasoline won't prevent you from getting there. We all complain about gas prices and don't see much relief in sight. Maybe "get a horse!" isn't a bad idea after all.
Full Circle - A Test
What was name of the first major battlefield victory of the Mexican War?
What was the name of a famous trotting horse named after the first major battlefield victory of the Mexican War?
What was the name of the farm named after this horse?
What is the name of the city named after this farm?
Who was the owner of the trotter and the farm?
What is presently located on the site of the farm?
What is the nickname of this great university?
(Taken from my article on Eadweard Muybridge, photographer of horses in motion (and other things as well).
Answers below.

*****
Museum Gift Shops
On occasion I review my list of Museum gift shops. Sometimes I'm of the opinion that only one or two of the shops has what could be considered a decent selection of gift ideas. Still, only one or two unique gift ideas from a shop is often sufficient. I really have no idea who may have purchased something at one of these shops the Museum Gift Shop page gets a fair amount of traffic so the interest is there.
I've recently added The Harness Racing Hall of Fame Gift Shop in Goshen, New York to the list. This specialty shop has one of the nicest selection of quality gifts that I've yet come across and you don't even have to be a harness racing fanatic to appreciate what they have to offer. A wealth of books, statues, DVD's, apparel plus a cool harness racing weathervane. Worth a visit.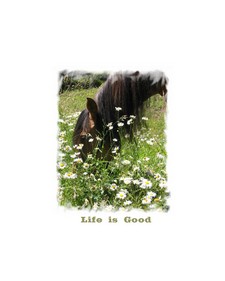 New Article on Round Pens - a Simple Construction with Portability In Mind.
This idea came from Lexington, Kentucky - where I believe they know more than a bit about horses. The author takes my design for a round pen,adds a few twists, and comes up with a relatively inexpensive soluton, plus the pen has the feature of portability. I've enjoyed the inputs I've received to date on my round pen article. You can find them on our page on Round Pens, Look for the article "A Round Pen Design Variation" for the latest submitted idea. If you have an idea along this line you'd like to share please do so!
Horseshoe Nails? - as a Gift?
Horseshoe nails - a strange gift to give, unless of course the recipient is your farrier. But the humble nail can be the basis for some outstanding jewelry. Visit Armando's to view his fine selection of pendants, chokers, earrings and crosses and you'll see what I mean. The horseshoe nails he uses are Swedish. Don't know if that makes a difference - maybe for jewelry.
Saddle Pads
Not long ago I spend some time looking over a selection of saddle pads at one of the local tack shops. I looked at several brands and styles over a price range from about $30 to over $80. I don't really need a new pad at the moment but still came close to purchasing one. While I've always used a fleece pad and haven't felt any need to change, a Reinsman neoprene waffle style caught my eye. It featured a southwestern pattern which I thought would look particularly sharp on my buckskin mare. I didn't buy it but - maybe someday.
I'm really not too familiar with the neoprene pads. My initial instinct would be that they would be uncomfortable for the horse as neoprene doesn't wick moisture but I've read that they actually are very good pads for extended trips (trail rides) plus they tend to inhibit saddle rolling or slipping. I've put together a few comparisons among (western) saddle pad types, added a selection of pads, mostly Reinsman, which you'll find at our new page on Saddle Pad Types. A saddle pad might serve as a nice gift, particularly a show pad.
Answers to Full Circle:
1 through 4 - Palo Alto
5 Leland Stanford
6 Stanford University
7 The Farm

See you next time -
Bill Savage
Your Guide To-Gifts For Horse Lovers
Lakside, Montana