A Great Horseback Experience
by Umair
(Islamabad, Pakistan)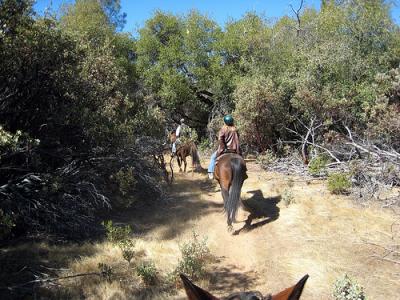 Last Month I and my friends went horseback riding at the Pine Moutain Lake Stables & Equestrian Center near Yosemite National Park. Specifically, we went on a weekend guided trial ride that normally goes for 1.5-2.0 hours.


Now I hadn't been on a horse since the sixth grade and while I barely remember that, I'm pretty sure that adventure didn't last more than maybe half an hour or so. And the weather probably sucked too, as it tended to when the sixth graders went to the Storer Camp up in Michigan.
We had a very experienced guide, nice horses, great weather, and a scenic ride along the 400 acres of riding and hiking trails. It was all very pleasant. I can appreciate the rustic nature of horseback riding: traveling on an animal through mostly unspoiled wilderness the same way that our forefathers did. It's a very romantic and low-tech sort of thing to do on a beautiful Sunday morning/afternoon.
We ventured off into previously unexplored horse trails across the road. Again, the scenery was great, but I paid for it later. It took a while to find our way back out. Will I go horseback riding again? Definitely. But I'll do it for more time and probably bring something to sit on.
In short, it was a great experience and i enjoyed it alot.
Join in and write your own page! It's easy to do. How? Simply click here to return to Horseback Vacation Ideas and Stories.