Cowboy Belt Buckles, Belts, and Hatbands
Make a Statement!
Cowboy belt buckles - always popular, usually get more attention than hatbands and certainly much more than the belts themselves.
But let's look at them all and see if there isn't an idea for a gift that will add some "zing" to your horse lover's wardrobe.

We'll start with a collection of Montana Silversmith's cowboy belt buckles with horse and rodeo themes.




To go with the buckle, view a selection of belts from one of the premier leather goods makers (plus a tip for shopping on your own and a look at some custom belts).

And finally, some ideas on finding a hatband to replace the less-than-exciting one your horse lover already has; or a pair of stampede strings if he or she likes "ridin' in the wind".
Suspenders, Cowboy Belt Buckles, and Montana Silversmiths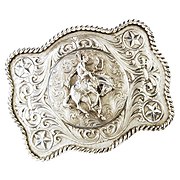 Cowboys didn't always wear big flashy buckles. Had we been writing this a century ago, we'd more than likely be discussing suspenders instead.
Not always a real exciting gift - except of course for the horse lover who happens to prefer suspenders.
In the wild west, most of the cowboys and gunslingers either of them wore suspenders or a nondescript belt but no shiny buckle!
The cowboy belt buckle as we know it is largely a creation of modern day rodeo and Hollywood.
Can you imagine Roy, Gene or Hoppy walking around in suspenders? Randolph Scott - maybe.
Of course in rodeo, belt buckles are awarded for work well done - worn with pride. Many buckles are downright handsome works of art.
You'll find a nice selection of Montana Sliversmith buckles at Sheplers
along with other jewelry items and accessories. We're admittedly a bit biased towards "Montana stuff" but we believe that you'll agree that some of these pieces are truly elegant.
*****
Or take a look at an interesting sampling of buckles from The Belt Buckle Shop by clicking here.
The Belt Buckle Shop offers over 600 unique belt buckles, primarily in brass and pewter, including many with equine and western themes. They feature easy, fast online ordering, and usually ship orders within a business day. Also in stock are some fine looking black or tan Oil Tan Harness Leather Belts.
If you've got your heart set on a nice western buckle, there's a good chance you'll find what you're looking for here.
For someone who already has several buckles, David Stoecklein's book "The Western Buckle" is a possible gift idea. Clicking on the cover takes you to the appropriate page in Powell's Bookstore.
Most of the buckles illustrated are made of sterling silver and solid gold - many are adorned with precious stones, intricate filigree work, and engraving. There are photographs of buckles owned by cowboy legends Casey Tibbs, Bob Wills, and others.



Another fine source for custom belt buckles, quality hand made custom belts, and high quality custom western saddles is Gary's Custom Saddlery and Silver Buckles. Traditional western sterling silver and/or gold belt buckles, designed and created with the discerning tastes of the client in mind, are their specialty.
The Belt
We've seen some examples of very fine leatherwork in belts produced by Tony Lama, one of the premier boot makers.
In a recent visit to a local store we took a very close look at several of the Tony Lama creations and feel without a doubt that most any cowboy or western rider could get many years of good service from one of these belts (and look good in the process). Sheplers
carries the Tony Lama and other fine brands. No surprise there, they carry most of the top brands of western attire. Many of the buckles that go with these belts are in themselves extremely attractive.
If you want to do a little shopping locally, visit your local saddle- or bootmaker and ask him to make a belt to your specifications.
A custom-made belt together with a fine belt buckle can certainly be a thing of beauty and a gift to last a lifetime.
You might even get a look at how saddles or boots are made as a bonus!
As we've said elsewhere, if we give you an idea you can run with, and you get some pleasure and success in the process, you've made our day.
Speaking of custom-made belts, Kansans Jared and Toma Nuffer have some truly unusual and attractive offerings; silver, turquoise, and crystal combinations set in snakeskin, ostrich, or cowhide. Or, if you are looking for something for the horse together with, or instead of, the horselover, their custom tack is certainly worth a look as well. The name of the outfit is 5J Custom Tack.
The Hatband - Add a Little Pizzaz
The hatband can add a touch of class or a ton of character to an otherwise plain cowboy hat. No guarantee that it will make a 2X hat look like a 9X hat but it just might get you part of the way there. But there is certainly much to be said to adding a little design or splash of color to a black, white, or silverbelly hat, or for that matter, a straw.
Now, you can get something more subdued or something that says...

...... but that's between you and your horse lover.

You'll find nicer hatbands of leather, beadwork, horsehair, feathers, inlaid silver, and a host of other things, or combinations of these. Next time you're in a western clothing store take a look at a few if they have them in stock.
Sheplers
has some nice bands and "stampede strings" in stock - worth a look. The stampede strings (they usually come in pairs) are what you use to hold your hat on your head at full gallop or when your on the trail and crossing over the pass in windy weather (saves you the trouble of going all the way back down to look for your hat!)
If you give a pair of stampede strings as a gift you might first check to see if the recipient has a hat he or she doesn't mind poking a couple of holes in.
If your horse lover's one and only cowboy hat is a $180 Stetson, they might not care to use the stampede strings. Of course they probably shouldn't be taking such a hat out on a week long trail ride either.
By the way, if you are an arts and crafts person, hatbands and stampede strings are two items that you just might consider giving as a gift, custom made by yourself!


Get out your feathers and beads and get going!
**********
Back to Top of Page
Back to Your Guide to Gifts for Horse Lovers Home Page