There are many possibilities for home decor horse art, both outside (for example, weathervanes and inside, see the selection of fine art prints, paintings, and photographs in our Horse Art section, or our selection of fine horse statues.




********************






Or, if you're looking something attractive and unique consider a gift from the world of etched glass.




********************

You can certainly have horses in every room of the house if you wish, but if that's a bit too much, the living room, children's room or home office are ideal places for a "touch of the equine spirit".


There are also some gift ideas which can perform "double duty".
| | | |
| --- | --- | --- |
| | | |
| Equine Tile Art: Here's a trivet that serves admirably as an item of wall art. | This saddle blanket will likely never touch the back of a horse. A nice addition to the bedroom. | This Norwegian Headstall serves double duty, headgear for driving and a decorative item of wall art. |
Draped over a railing or a sofa, a colorful horse blanket can be an attractive item of home decor. Explore this idea with a visit to our page on Saddle Pads and Blankets.

Back in The Saddle's Huge Selection
For a large selection of home decor items, everything from wall art to horse themed bedding and about anything in between, we recommend a visit to Back In The Saddle.
During a visit to their on-line catalog ask them for a copy of their catalog through the mail, they'll be more than happy to send you one - you'll be more than impressed with what they have to offer in the realm of horse art and home decor - and other equine items as well.


There's plenty to choose from for bed bath and kitchen. Throw pillows, bedding, and towels with beautiful equine themes. Wall borders, coat racks and door headers, some featuring the work of Jenness Cortez, an artist we highlighted in our Horse Art section. You will find, among other things, full length door posters for the young riders room.
We're proud to be associated with this fine organization.
Steel Horse Art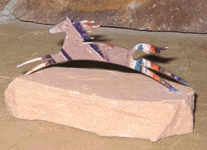 Steel horse art adds an elegant touch to the interior or exterior of a home. The little horse here was purchased at a museum gift shop - inexpensive, but a favorite!

For the exterior of the house - weathervanes make a nice gift, almost everyone likes them.

Here's a little selection of metal wall art including a couple from Back in the Saddle (always quality products). Metal art looks sharp on most walls, especially on wood paneling.

We also feature the work of Montana artist Jerry Morang. Jerry's done several custom pieces for us and you can see them on our Steel Horse Art Page.
**********
If you don't find an idea for a great horse lover's gift here there's always a Good Horse Book, an item of fine Equine Jewelry, or for something a little out of the ordinary see our Cool Ideas for Horse Lover Gifts page
- or pay a visit to our Gift Shop.
Back to Top of Page
Back to Your Guide to Gifts for Horse Lovers Home Page