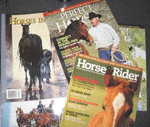 Horse Magazines:
Inexpensive, Seldom Sinful
and Never Fattening
There's a couple of ways to give horse magazines as a gift -

as a gift subscription, or
a single issue (or several different) placed in a gift basket you've put together.
We're always on the lookout for items to make up an interesting horse lover's gift basket. Please drop us a note if you have a special idea.
If you know a bit about horses and the tastes of your horse lover, your choice among horse magazines is probably a no-brainer. Otherwise, maybe we can help a bit.
"Fit" isn't as crucial as for hats, boots, and saddles, but still you'll want to select something in line with your horse lover's equestrian activities and interests, which might be -
horse care, breeding
pleasure or trail riding
dressage, english riding
cowboy stuff
driving
or all of the above.
Your can choose among one of the well known horse magazines - They address slightly different audiences and we'll get to that in a moment.
Or, you might opt for a more specialized magazine or journal and want to visit one or more of our links to Specialized Magazines and Journals. National organizations more often than not have a magazine or journal and, it's sometimes possible to subscribe to their publication without having to become a member.
A membership in one such organization is yet another gift idea.
Getting back to the major publications:
Note:
Western Horseman
belongs in the "general" as well as the western category (if you don't mind a little cowboy poetry and a define western slant along with the articles on horses, horse care and horsemanship).
Western Horseman
is our favorite and
we highly recommend it
.
From our Specialized Magazines and Journals

page we have a link to a very interesting website which features Przewalski's Horse. If you or your horse lover are interested in the history and evolution of the horse, this is an interesting site worthy of a few minutes of your time.
Back to Top of Page
Back to Your Guide to Gifts for Horse Lovers Home Page