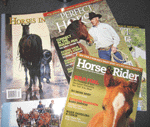 Looking for a Good Horse Magazine with General Content?
A good horse magazine is seldom sinful, non-fattening, relatively inexpensive, and given the right choice, very appropriate.
And it's renewable!
There are at least a couple of ways you might give a horse magazine as a gift - the conventional way - a gift subscription providing pleasure for a year or more, or a single issue - an item in a gift basket you've put together
(Note: We're always on the lookout for items to make up an interesting horse lover's gift basket. Drop us a note if you have an idea along that line.)
For the beginning rider, new horse owner, or someone who just loves all aspects of horsemanship, either of the magazines highlighted below would be a good choice.

Equus
, regarded by many as the #1 horse magazine, provides coverage across the spectrum of riding, horse care, tack, and training.
EQUUS places significant emphasis on issues of equine health, horse care and safety and is a leading magazine in this area, with much information of special value to the newer horse owner.
These articles on equine health and care go into great detail and form the basis for a valuable reference library.

We highly recommend EQUUS.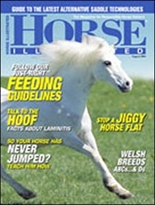 Horse Illustrated
has been around for over 25 years. That in itself attests to the magazine's quality and popularity.
Horse Illustrated is geared toward the owner of a horse or three; more so perhaps than to the professional horse owner or breeder.
The magazine covers both western and english riding styles. Well written articles are a trademark of this horse magazine.
We like the way in which this magazine is put together; the Breed Profiles are always interesting and informative

(the March 2004 profile of the Friesian was especially beautifully done).
Back to Your Guide to Gifts for Horse Lovers Home Page
Back to Top of Page