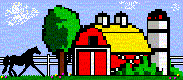 A Barn Full of Gift Ideas?
Quite a Goal
You Can Help
You could certainly fill a barn with all of the possibilities for horse gift ideas. We'd like to fill that barn up and guide you to just what you're looking for in a snap.
Tall order - we could always use a little help.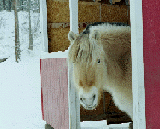 If we haven't been of help let us know where we need to try harder.

If you've been disappointed in either a merchant or product we've recommended or suggested we need to be aware of that so we can fix things.

If you've an idea for a gift you'd like to share, please let us know (we'll give you credit for your suggestion of course).

Or, if you just want to say "hi" we'd like that too.
Please note that we only use your e-mail address to respond to your message if a response is required. Your e-mail address is confidential as far as we're concerned and will not be shared or used for any other purpose without your express permission.
As far as where you're from - you don't need to tell us but it's something we always are interested in knowing.