Your Guide to Horse Magazine Gift Ideas
-
Western Riding
A good horse magazine is seldom sinful, non-fattening, relatively inexpensive, and given the right choice, very appropriate.
And it's renewable!
There are at least a couple of ways you might give a horse magazine as a gift -
the conventional way, a gift subscription providing ongoing pleasure, or as a single issue - placed in a gift basket you've put together
(Note: We're always on the lookout for items to make up an interesting
horse lover's gift basket. Drop us a note if you have an idea along that line.)
For the Western Rider,
four top magazines are -
Western Horseman, which we think is the best all-around magazine,
Horse and Rider, a good magazine for the beginner, and the more specialized
Trail Rider, and
Trail Blazer.
Of special note: Western Horseman belongs in the "general" as well as the western category (if you don't mind a little cowboy poetry and a definite western slant along with the articles on horses, horse care and horsemanship). Western Horseman is our favorite horse magazine and we highly recommend it.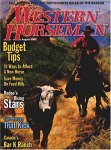 There may be a horse magazine or two that have been around longer, but Western Horseman is likely the granddaddy (since 1936) of the most widely read North American horse magazines today.
Western Horseman features highly readable, informative, and entertaining articles on horse care, riding, training, tack and equipment. The magazine targets the western rider, as the name implies, with more than a bit of ranch and cowboy culture (including cowboy poetry) reflected in many of the articles. Because of the broad range content, Western Horseman can also be considered as a gift idea in the general, broad content, horse magazine category. Almost double the size of most of the other magazines in the market (200 pages not unusual), each issue of Western Horseman offers hours of reading enjoyment.
Highly recommended as either a western style or general all-round selection, Western Horseman magazine is our favorite.
Horse & Rider
is focused on the western horse world and features instructional articles on training, grooming and riding. Many training articles with how-to instructions from performance in the show ring to barrel racing. Horse and Rider is well laid out, with excellent photography reinforcing the textual content. While there is of course advertizing, it is packaged so as not to interfere with the flow of the articles (a common problem in many magazines). This magazine has a very professional look. Its appeal is not only to the experienced western rider but would be a good choice for the beginning horse owner or rider as well.
Trail Blazer
has been in circulation for over 25 years. It's regular features cover the best products for use on the trail, plus training tips for developing a safe and healthy trail horse. There are articles featuring survival skills while on the trail plus descriptions or trail riding locations and camps in the USA, Canada, and elsewhere in the world.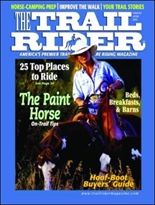 A magazine which appears to be steadily gaining in popularity is Trail Rider
.
This magazine has been given positive reviews. One exception noted, was that the coverage of trail riding locations and events appears to focus on the east coast and mid-west, and not so much west of the Rockies. While this may or may not have been the case, in a review of recent issues, the western US seems well represented. Articles on trail rides, wagon trains, trail safety and survival, and trail horse training and handling are the primary focus of Trail Rider.
Back to Top of Page
Back to Your Guide to Gifts for Horse Lovers Home Page