Buck Brannaman
A respected horse gentler whose approach has had a significant impact on the equestrian world. When not traveling on his busy clinic schedule, he makes his home in Sheridan, Wyoming.
Books on Horsemanship: Groundwork book, a step by step starting your colt from the ground and Buck's own story, The Faraway Horses and BELIEVE - A Horeman's Journey. You can find a review of BELIEVE in our Four Foot Shelf of Books page.
Horsemanship Videos: - on working with your colt from the ground, achieving horsemanship goals, trailer loading and problem solving, the Ranch Roping Series and most recently The Making of a Bridle Horse Series .
Website: Visit
Buck Brannaman's web site plus an interesting audio interview at can be found at http://www.allabouthorses.com/site/care/buck_brannaman.html
Klaus Ferdinand Hempfling
Klaus Ferdinand Hempfling is a highly acclaimed European trainer whose book and video, Dancing with Horses shows how to use body language to communicate with the horse and has achieved recognition on this side of the Atlantic as well. A search on the web for material on this horseman turns up sites in most of the major European languages.
Books on Horsemanship - Best known is Dancing with Horses. At http://www.conquistador.com/dancehorses.html you'll find a good review of the Dancing with Horses book and video from Conquistador Magazine.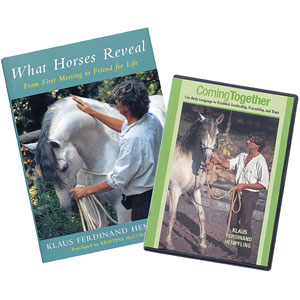 NEW! In "What Horses Reveal," a follow-up to his groundbreaking book, "Dancing with Horses," Klaus Ferdinand Hempfling explains his unique system for recognizing horses' personalities and training methods fitting each personality type. One of the greatest hurdles we have to face in learning to work with horses is knowing what to look for and, as Hempfling explains, it is not the same from horse to horse. Hempfling categories horses into 26 character groups and with the aid of some outstanding photography, touches upon each category. You may be tempted to try to "fit" your horse into a particular category. Hempfling advises otherwise. Understand the whole first. That's not easy.
There's plenty to absorb - most all of it of value. The first part of the book can be slow reading. Not boring by any means, quite the opposite, just plenty of information crammed into each paragraph. Once you get to the 26 character types it is smoother sailing.
While any true horse lover should enjoy this book it is better suited for those who spend lots of time with different horses or work with horses than for the occasional rider. But I should add, that it is also a fine gift for anyone who is just getting acquainted with the horse world and has a true desire to communicate with these wonderful animals. Most of us rarely read a book more than once but this book shold be an exception.
Add the fact that it's offered by Back in the Saddle
and they're rather particular about the value of their offerings. This just might make an excellent gift for one beginning to work with horses.

Horsemanship Videos: Videos can be purchased together with the books.

Website: The best website we came across is from Denmark, but half of it, where Hempfling is speaking, is in English. For the Danish rytter eller rytterske : Interviews med Klaus Hempfling, manden som Danser med heste, og Einer Aaby Hansen, som benytter Klaus Hempflings metode med stor succes.www.alternativinfo.dk/public/dyr_tv/hempflin.htm - Spilletid: 5.36

Cherry Hill

Colorado resident Cherry Hill is a prolific author with hundreds of articles on over 20 books on horsemanship, horse psychology, horse care and training to her credit. Many of these articles are available for viewing on her website and give you an appreciation of her expertise.

Books on Horsemanship - For a complete listing of Cherry Hill's books, vist her website (see below)

Horsemanship Videos: A 3-Volume Set Titled 100 Horsekeeping Tips is the Centerpiece

Website: Cherry Hill's Horsekeeping.com web site contains loads of articles and solid information.

Ray Hunt

Ray Hunt one of the greatest of the teachers of natural horsemanship. The book and movie The Horse Whisperer were based upon Ray's methods of working with horses. There is a nice story about him in the January 2005 issue of Western Horseman.

Also there is a web- site http://www.shambhalasun.com/Archives/Features/1998/July98/RayHunt.htm where you can find a good article about Hunt.

Books on Horsemanship - Think Harmony With Horses: An In-Depth Study of Horse/Man Relationship

Horsemanship Videos: No books for sale on his site but there are some videos worth considering.

Web Site: You can visit Ray Hunt's web site or watch a video clip of him at work at http://www.rayhunt.com/watchray.htm

John Lyons

John Lyons is the author of a fairly large number of books. We have horse friends that swear by Lyon's methods which is good enough for us to suggest that you probably will do well with any of his offerings you feel might be appropriate for a gift. You can see him in action on RFDTV (see the website for program schedule).

Books on Horsemanship - The Perfect Horse series and Bringing Up Baby are the best known. Lyons also publishes The Perfect Horse magazine.

Horsemanship Videos and Web Site: You can find out more about John Lyon's books on horsemanship at his website and find out more about Lyon's, his products and his TV and Clinic schedules.

Pat Parelli

A California native Pat Parelli has been working around horses since the age of 9. Following a successful career in rodeo (bareback riding). An established trainer by the 1980's, Parelli moved into the training arena where mentored by the likes of masters Tom Dorrance and Ray Hunt he developed his approach to Natural Horse Man Ship.

The Parelli method embraces English and Western, dressage, penning, polo, cutting, jumping - you name it.

Books on Horsemanship -Natural Horse.Man.Ship is one of the best in the industry.

Horsemanship Videos: There are half-a-dozen videos available from his website.

Web Site: Parelli's books on horsemanship and a ton of information including downloads and a free DVD are available at the Parelli Website. This is a site worth visiting. You'll find some good articles including an excellent article by Linda Parelli on Fluidity and Becoming a Natural Horseman by Pat.

Reading these articles will give you a feel for the "Parelli method". You'll also find the schedule for Parelli's appearances on RFDTV.

*************

One of the truly great horsemen passed away a couple of years back. Tom Dorrance's legacy is in the minds of those he helped with horses, students and great trainers alike. His toughts and those of his students and associates are captured in "TRUE UNITY" Tom Dorrance Talks About Horses ISBN 1-844995-09-8. If you're not too familiar with Dorrance's contributions you'll find a visit to the Tom Dorrance website of value.



Finally, there's an interesting web site we came across recently and recommend to anyone interested in training or working with horses the natural way. Natural Horse Network is a network of information, products and training tips for people who naturally love horses.



Back to Top of Page

Back to Your Guide to Gifts for Horse Lovers Home Page