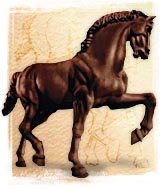 An Alternative to an
Equestrian Statue as a Gift
-
A Framed Photo of One
An alternative to a horse statue of sculpture as a gift idea would be a photograph of the same. Below are four examples featuring some of the finest equestrian statues you'll find anywhere. The first two I've seen "up close and personal", the others I haven't but would like to some day.
I lived in Copenhagen for a time and am familiar with the beautiful statue of Bishop Absalon on horseback located in the heart of the city. You'll find it just off of Strøget, the famous pedestrian shopping street and near the Parliament building.
Bishop Absalon has historically been regarded as Copenhagen's founder. However recent archeological findings suggest that the city may have already been there when Absalon arrived. I'm sure that even if that proves to be the case this beautiful and beloved statue will remain in it's location and Absalon will considered as the city's "founding father".
A second equestrian statue in Copenhagen is probably one of the premier equestrian statues in the world. It's located in the center of the royal palace courtyard (Amalienborg) featuring a past Danish king, Frederik V, on horseback. You can take your own photograph of it with either the Queens's residence or the "Marble" Church in the background. Time it right and you'll be there for the changing of the guards and perhaps even say Hi to the Queen should she happen by.
The Jackson Statue is in Jackson Square on the river front side of New Orleans' French Quarter. The beautiful St. Louis Cathedral is in the background. After visiting the statue, the cathedral and the nearby French Market, Bourbon Street beckons, only a couple of blocks away.
Two works of art I haven't yet seen up close but nevertheless would seem to make fine items of decor are the Winged Horse Statue of Mirabellgarten, Austria and the Detail of a Horse's Head on the Arch of Triumph in Paris.
| | | | |
| --- | --- | --- | --- |
| --- | This store brought to you by | | --- |
Or Do It Yourself

Needless to say there's nothing preventing you from taking a fantastic photo of your own if you happen on such a statue. With today's digital cameras it's not difficult to get a very professional looking result.


Where Are They?


Most larger cities in Europe and quite a few here in the USA have an equestrian statue that may serve your purpose well. You can upload the photo to your computer then send it to your favorite photo shop or consider the Custom Framing Services at Art.com, a good choice always.
Washington DC is probably the best area to see equetrian statues in the US with at least 20 major statues. Philadelphia and New York City each have almost as many, as does Chicago.

Boston has several, including Paul Revere of course, and Civil War buffs will find statues of Robert E. Lee, JEB Stuart, "Stonewall" Jackson, and George washington in Richmond, Virginia.

Many other towns and cities across the country have equestrian statues as well. A fine source of locations of equestrian statues throughout the world is Wikipedia.
Back to Horse Statues Main Page
See Other Examples of Horse Art
Back to Your Guide to Gifts for Horse Lovers Home Page