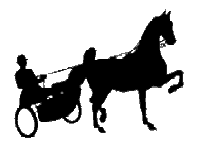 Your Guide to Horse Books and Videos
-
Driving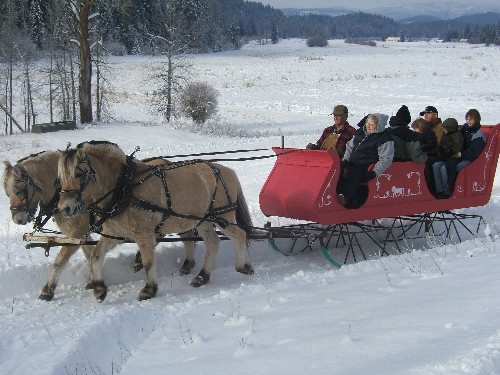 Oh what fun! Sleigh Riding in NW Montana - Photo Courtesy of BUSHWHACKER FJORDS
You would not be shopping for horse books or manuals on driving for a gift or for yourself one hundred years ago. You learned from your father or grandfather or maybe a neighbor. The cart or buggy was still a prinicipal means of transportation and you learned to drive by necessity.
Someone who drove singles or pairs everyday could teach you what you needed to know. Four-in-hand, in some ways regarded as the ultimate driving skill (driving tandem was more difficult, but less popular), would require a higher level of instruction. In todays world you need to seek out a knowledgable person to teach driving skills.
Books or videos on the subject are very useful companions for learning but one should caution against their use as the sole means of instruction. Driving in todays world is not without some dangers.
Learning this art, from our own experience, requires a greater degree of concentration than riding. Not that you shouldn't be focused on what you're doing in the saddle, but sitting in a cart or buggy you are (or at least feel) less in control of things. In very simplistic terms, you not only have to maintain contact with the horse, but be aware of what the cart or wagon is capable of as well. If you drop a rein while driving, it may be a little more difficult to get things under control, if you can at all, than is the case while in the saddle.
Having said that, it's a blast!
There is not a large selection of horse books on driving on the market but there are nevertheless some good ones. If your horse lover is into driving or even just thinking about taking it up, we suggest Rittmeister Max Pape's The Art of Driving as a fine gift idea. This book covers the important aspects of driving in great detail.
A book from our own library, which also provides a comprehensive treatment of driving subjects is On the Box Seat by Tom Ryder. Regrettably, this book is out of print and likely will be difficult to locate or we would heartily recommend it.
In browsing On the Box Seat's bibliography, we note that the great bulk of horse books on driving, carriages, and coaches were published in the late 19th Century and early 20th Century. Fortunately, there is still enough good material currently in print to help keep this wonderful discipline alive.
You can find more about The Art of Driving and others offered by The Horse Information Center by clicking directly to their
horse books page on Driving .
If your horse lover is by chance a follower of harness racing, a copy of The Hambletonian might be worth considering as a gift.


You can of course visit the other pages of The Horse Information Site from the Driving page. It's an interesting site with more to offer besides their fine selection of books and videos.
*****
When you've learned the art of driving you've likely come to the conclusion that reading a book isn't enough to get started. Some expert instruction is definitely needed together with a good understanding of what this wonderful sport is all about. In this regard a good site to visit is Discover Horse Carriage Driving.



P.S. An after thought: if your horse lover lives in the northern climates and has the good fortune to own a sleigh, sleigh bells might be greatly appreciated as a gift.
Back to Horse Books Main Page