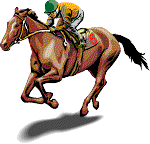 Your Guide to Horse Books and Videos
-
Race Horses and Horse Racing
Our friends at The Horse Information Center have significant expertise in the breeding, care, and training of race horses, and a very comprehensive selection of books, videos, and software on the subject.
If you are looking for a gift for a horse lover who has a passion for the thoroughbred or the standardbred, or whose passion is The Sport of Kings or harness racing, you may not have to look beyond this site to find the right one.


STANDARDBRED To browse The Horse Information Center's selection of books on the care and training of the Standardbred, sire lines, and videos on harness racing (The Hambiltonian) and harness race driving, just click on Standardbred, above.
THOROUGHBRED By clicking here you can browse a listing of books whose content includes thoroughbred breeding and pedigrees, training and care, as well as a number of books on racing and racing champions. The Horse Information Center also has Horse Management software available.
Quite an interesting array of books on racing champions of the past are featured, such as Native Dancer, Secretariat, Man O'War, Citation, and others, and, of course Seabiscuit. There are presently twenty-one books offered in the Thoroughbred Legends series. In addition you will find books on racing and handicapping.
Finally, you might consider the gift of a video on Seabiscuit, Secretariat, or The History of Horse Racing, or one of the educational videos on thoroughbred ownership and care.
You may well find your gift here for the race horse lover or the horse racing lover, or most likely, the lover of both.

P.S. For a little something extra, The Horse Information Center offers autographed copies of some of their books, at no extra charge. Many of these are in the race horse and horse racing categories and you may wish to look at their Autographed Books page.




Back to Top of Page