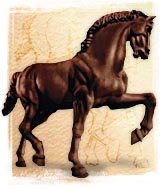 Attractive Horse Statues
for
Indoors and The Garden


Here's a variety of horse statues for outdoor or indoor decor. The top pair, marketed by Krupps are bronzes which are meant for the garden (or a very large interior room.
Following these two are half a dozen from Accents in the Garden and available in Fiberglass or Fiberstone for outdoors display. These are smaller than the first two sculptures and could find a place inside as well.
Then there's a pair from Design Toscano, cast in resin with a bronze finish, meant for display inside the home.


Finally, a pair from
Museum Store Company.





Back to Main Horse Statues Page
Back to Your Guide to Gifts for Horse Lovers Home Page