A Montana Horseback Riding Vacation
Pack Trips, Cattle Drives, Guest Ranches
Under the Big Sky
Want to get away from the crowds? A Montana horseback riding vacation under the Big Sky is the place to do it.
Glacier National Park
is an hours drive from our place in western Montana and a few hours drive south takes us to
Yellowstone Park.
You'll find plenty of scenery and horseback riding opportunities in between.
There are ghost towns to visit, the Bob Marshall Wilderness to explore, and the Headwaters of the Missouri along the Lewis and Clark Trail.
It's more "open" in Central and eastern Montana with not as much "vertical" scenery, but still there are many special places between the Missouri River and the Little Bighorn.


The

Blackfoot River Valley in north central Montana is a lovely area for horseback riding
- Especially when the fall colors appear.

Salmon Lake is one of several fine fishing lakes in the scenic Seeley-Swan Valley
the western gateway for pack trips into the Bob Marshall Wilderness Area.

There are many places for trail riding in northwest Montana.
This is from the north fork of the Flathead River looking towards the western boundary of Glacier National Park.
Knowing a bit about ranch life we can pretty much guarantee you'll find friendly hosts and have a fun-filled, enchanting vacation no matter where your choice. As a gift to your horse lover, and/or to yourself,
a horseback vacation in Montana is a good choice.
There's a number of guest ranches located in various parts of the state offering a variety of activities on horseback -
horseback lessons and riding, cattle drives, horse roundups, wildlife watching, photo expeditions, hiking tours, even gold panning expeditions -
what follows is just the tip of the iceberg but a nice selection nonetheless.

A sampling of things to try -
A Pack Trip in the Bob Marshall Wilderness

One of our favorite destinations is the Bob Marshall Wilderness in north central Montana. In approximately the middle of this wilderness area and a part of the Continental Divide is the "Chinese Wall". This 1000 foot escarpment is over 15 miles in length. When we first saw some photos of the Wall (very dramatic) it became a "must visit" destination.
A guest ranch adjacent to "The Bob" is the Rich Ranch, located in the scenic Blackfoot River Valley. The ranch features a newly built cedar/log lodge and cabins nestled in the edge of a large natural meadow with a backdrop of majestic mountains. Nearest towns are Seeley Lake and Missoula. The major attraction attractions are the Seeley-Swan valley between Swan and Mission Ranges, and the Blackfoot River of A River Runs Through It fame. (This is wilderness with a capital W).

Ridin' and Fishin' In the Great Bear Wilderness adjoining Glacier National Park to the South, there's an outfitter's ranch called Spotted Bear Ranch (www.spottedbear.com)

You can travel several days by horseback up the Spotted Bear River and then take a float trip and fly fish all the way back (or come back on horseback if you prefer).

A (Bucking) Horse Auction Further East - quite a bit further east but still in Montana, is Miles City, site of the Annual Bucking Horse Sale every May. You can find out all about it at http://www.buckinghorsesale.com/ This would be a horse vacation with a definite twist and Miles City still has a definite cow town flavor to it - especially during the days of the Sale.
A Horse Drive A recent issue of Western Horseman an article featured the town of Three Forks and it's Annual Horse Drive (April 29-30 in 2006 details at www.montanahorses.com) . We've overnighted there several times at the classic Sacajawea Hotel. Three Forks is located on I-90 in south-central Montana and is so named because of it's proximity to the confluence of the Jefferson, Gallatin, and Madison rivers - the Headwaters of the Missouri. The article described the annual Three Forks a Horse Drive in which approximately 500 horses were driven from one location to another (including over I-90 and down Three Fork's main street!)

I suspect a horse drive might be a bit more interesting than a cattle drive. It would certainly be a faster pace. Horses generally prefer to trot (or canter) rather than walk. In fact the term "horse drive" is a misnomer. Trying to drive horses (we're not talking about horse and buggy driving here) is a bit like trying to herd cats. Push them and they'll go every which way. You have to hold horses back rather than trying to force them forward. Sounds like work - and fun and should make for an interesting horse vacation.
Several other guest ranches around the state which have much to offer -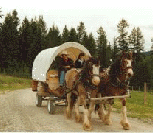 Tucker's Inn & Guest Ranch is located in Trego, near Glacier National Park and the Glacier outback area. The ranch offers family adventure packages, cabin suites, fine dining, horseback riding, rafting, over-night riding trips, and wildlife everywhere. In this part of the state you can expect possible encounters with bears, moose, deer, elk, eagles, owls, osprey and much more. We've spotted the elusive lynx on a couple of occasions. The nearest sizable town is Whitefish. Nearby attractions - drive the Going-to-the-Sun Road in Glacier National Park, one of the most scenic drives in the USA.

**********
There's plenty to see and do in Central and Southwest Montana - ghost towns, outlaws hideaways, many ranching and mining towns and premier fly fishing. Major attractions include Yellowstone National Park, the headwaters of the Missouri River at Three Forks and the resort area at Big Sky. The larger towns are the capitol Helena, Great Falls, Butte, and Bozeman (a university town and home of the Museum of the Rockies).
Hidden Hollow Hideaway near Helena is a working guest ranch offering horseback riding, wildlife watching, photo safaris, horsenmanship lessons, hiking tours, and gold panning expeditions. The ranch lies between Canyon Ferry Lake and the Big Belt Mountains, and is less than two hours from Yellowstone Park.
The 320 Guest Ranch is located 30 miles from Yellowstone National Park and 12 miles from Big Sky. The specialty here is trail riding from 2-hour rides to all day rides. This might be a good spot for some time on horseback if you're planning on spending some time in Yellowstone.
Horseback Vacations in Montana offers about every type of activity you might be interested in. They are located in Townsend, Montana (north of Yellowstone and east of Helena). Cattle drives, horse roundup, ranch riding, chuckwagon meals are available June thru August in southwest and central Montana mountains. This is Lewis and Clark country, from the headwaters of the Missouri River and heading north between the Rocky Mountain Front and the Big Belt Range. Real work, real fun!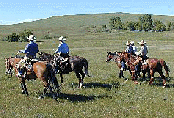 Eastern Montana is wide open country, travelling to the east or west you can drive along the Yellowstone River, visit cow towns such as Miles City (home of the Bucking Horse Auction), search for wild horses in the Pryor Mountains, or pay a visit to the Little Bighorn Battlefield. The Wald Ranch is definitely in "Big Sky" country. There's horseback riding suitable for all riding abilities.

You can enjoy ranch activities or go off on day trip of your own. Located near Lodge Grass, Montana on the Crow Reservation, the ranch is only a few minutes drive from the Little Bighorn Battlefield Historical Site. The nearest larger towns are Sheridan, Wyoming and Billings, Montana.



Back to Horseback Riding Vacations Main Page
Back to Your Guide to Gifts for Horse Lovers Home Page