Synthetic Saddle or Traditional Saddle ?
The Pros and Cons
Thinking of a synthetic saddle as a gift? There are pros and cons of course. Considering these can help you make an informed decision, and a good decision, for a great gift idea.


Not too many years back a cowboy or anyone considering themselves a horseman or horsewoman wouldn't be caught dead in a synthetic saddle.
It was synonomous with "cheap" - often for good reason.
You bought one not knowing any better.
Hopefully it fit both horse and rider and maybe you got a season or two of use from it.
Today synthetics are offered right along with their wood and leather counterparts - especially Cordura and Ralide saddles. A significant percentage, some say half, of all saddles sold in the US today feature synthetic trees, covering, or both.
Sometimes you'll see reference to these saddles mixed in with saddle types such as roping, trail riding, or reining saddles. If you're new to the horse world you might wonder what type of "events" Ralide and Cordura are! Let's get that out of the way first.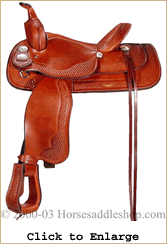 What is a Ralide tree?
Ralide is the registered trademark name of a type of polyethylene used in the vast majority of synthetic trees produced in the US. Ralide trees have been around for over 40 years and are used by most of the major saddle manufacturers in this country for at least a portion of their product lines.
The tree is formed by an injection molding process. For a given size and shape a standard tree can be produced allowing standardization of the other saddle parts leading to efficiency in production and lower production costs. Consequently the synthetic saddle is generally less expensive than it's wood and leather counterpart.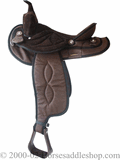 What is Cordura?
Cordura is the registered trademark of a fabric initially developed by DuPont in the late 1920's.
Cordura is a high-performance extremely durable, abrasion-resistant fabric used not only in saddles but luggage, boots, motorcycle protective clothing, and numerous military applications where strength and durability are required.
A special weave is normally ordered for saddlemaking. Many saddles with a Cordura covering are built upon Ralide trees.

If you're a traditionalist or a lover of leather, you wouldn't consider a Cordura saddle any more than a Harley rider would forsake the "leathers" for nylon.
But if you're new to the saddle game and haven't yet acquired a mindset one way or another you might consider the -

Pro's and Con's.

Appearance: In most cases leather (plain or tooled) wins hands down; an exception is when the synthetic (e.g. Cordura) covering is used in combination with a Southwest or Navajo pattern.

The result is striking.

Fit: Not as big an issue as you might think. For best fit, nothing can beat a handmade custom saddle on a wood tree (a synthetic tree, coming from a mold, does not lend itself to custom fit). For a factory produced saddle, you can achieve proper fit either way although there is generally a wider choice of "fits" available with the wood trees.

Care: Synthetic has a definite edge here. Instead of oiling (no longer recommended) or frequent application of leather cleaner and conditioner, you simply "wash" the synthetic saddle.

Rider Comfort: Visit a few horse forums and you'll get a range of opinions on this.

Some find synthetics great, others "can't quite get used to them". The only specific complaint I've seen is poor placement of the stirrups (rigging position) and stirrup length on some models - which does not seem to have much to do with the material used to build the saddle.

Durability: This used to be the major drawback for the synthetic saddle. There are plenty of cheap synthetics out there. But the top brands such as Wintec, Abetta and Fabtron have excellent reputations and you won't go wrong choosing one of these.

"Traditional" makers like Crates and Big Horn also feature both Ralide and Cordura models which would be perfectly good choices. There are even synthetics out there which are suitable for roping.
That used to be a no-no and still is for most synthetic saddles. I would still give my vote to the wood tree/leather saddle if you are talking lifetime use.
Economy: Ever had a kid in ski-school? Every November you visit the ski shop, get a new set of clothing and skis,and are assured that they will be good for at least two years. Guess what? Next year at the same time they've outgrown everything and you repeat the process.
Moral - the generally less expensive synthetic saddle may be a better choice for a growing pre-teen who will graduate from a 14" to a 16" seat in a couple of years.
Ease of Handling: Synthetic wins hand down. A synthetic trail saddle can well be a third to half the weight of it's leather counterpart which can be a very important consideration for some and is a good selling point for the synthetics.
You might recollect the movie cowboy carrying his saddle after leaving his dead horse behind. After the first mile he is surely wishing he had the synthetic variety - even though he wouldn't be caught dead seated in it.
My recommendation? I won't offer one. But if you pressed me I'd "suggest" wood and leather - hands down. But I'm old and set in my ways.

**********
But, if you are definitely looking for a quality synthetic saddle two of the more popular makes are Abetta and Wintec.
We've seen these brands on display at our local ranch supply store. They're sharp looking and have good reputations. Another brands worth a look and mentioned earlier are Bighorn and Crates.
**********
HorseSaddleShop.com is an Indiana-based family business specializing not only in saddles saddle fitting as well. They carry an impressive line of quality saddles and you'll be impressed with the assistance they offer in making sure you get the style you are after and the all-important proper fit.
If a synthetic saddle is on your mind we suggest you pay Dale and Chuck at HorseSaddleShop.com a visit.
Back to Main Page of Saddles Main Page
Back to Top of Page