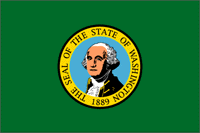 Mountain Wilderness, Apple Orchards, Wide Open Spaces

-
A Washington Horseback Vacation Has it All!
Gift Idea? Try a Horseback Vacation in Washington State.

In Washington state you'll find Mount Rainier, Seattle's Space Needle (and rain), Grand Coulee Dam and the Columbia River country.

There are mountain peaks, ocean beaches, apple orchards, historic sites, and wide open spaces.
With your guest ranch as a base camp you'll find there's no shortage of interesting places to visit and things to do in Washington state!
Although the western third of the state isn't thought of as horse country, a drive outside the cities shows that a surprising number of horse owners live there.
In fact there are more horses in Washington than in of Montana and Wyoming combined. It's in the eastern 2/3 of the state however where you'll find the ranches and wide open spaces.
| | | |
| --- | --- | --- |
| | | |
| Think of Washington State and one of the first images that comes to mind might be Seattle's Space Needle. | Mount Rainier is an even more popular destination and a wonderful place for a wilderness hike. | But it's the eastern part of the state where you'll find great guest ranches, wonderful riding opportunities - and top quality rodeo. |
Let's visit four areas, each of which can boast of one or more fine guest ranches, each with its own unique attractions and the promise of a wonderful Washington horseback vacation.
The North Cascades
The North Cascades is one of the most scenic areas you'll find anywhere and, with exception of traffic on the highway bisecting Cascades at this point, one of the least visited. A few hours drive to the west takes you to salt water, to the east the wide open Okanogan countryside, to the south the central Cascades and apple country, and to the north the volcanic peaks of Mt. Baker and Glacier Peak and into Canada.
Tucked away in the north Cascades is the tiny village of Stehekin. Getting there requires a 55 mile long boat trip up Lake Chelan, by float plane, or by trail through the Cascade wilderness where you'll find yourself near the southeastern edge of the North Cascades National Park and the northern segment of the Pacific Crest Trail.
This friendly little village is a unique places to visit. As remote as Stehekin is, traveling another 9 miles into the North Cascades wildreness takes you to the Stehekin Valley Ranch, an ideal spot to spend your Washington horseback vacation. Thy've been in business since 1947. You'll find a variety of unique vacation experiences - pack trips, horseback riding, base camps, tent to tent camps, photography, fishing, river rafting and kayaking.
The Central Cascades


In Central Washington you'll to find ranch country. Heading east from the Cascade range the fir and spruce forests change to pine and then open up to more arid countryside where views are often of rolling hills with glimses of Cascade mountain peaks in the distance. Two hours drive to the west takes you to Seattle, a couple of hours more and you'll find yourself on the beaches of the Pacific Ocean (where you may find horses to rent during the summer months).
Larger Central washington towns include Wenatchee, Yakima, and Ellensburg, home to one of the "old rodeos" and one of America's Top 25 professional rodeos with over 500 contestants and prize money in excess of $250,000!
Just west of Ellensburg near the small town of Cle Elum in a picture perfect setting is the Flying Horseshoe Ranch featuring two-hour trail rides. Private riding lessons are also available at the Flying Horseshoe.
North Central Washington


The Canaan Ranch
is located between the towns of Tonasket and Republic, north of Grnad Coulee Dam and the town of Omak, home of the famous (and contraversial)Omak Stampede.

The ranch its at an elevation of 3500 ft., covers 500 acres and is bordered by the Okanogan National Forest. There are fully equiped cabins and miles of riding trails. Bring your own horse if you wish. This is Grand Coulee country with wide open spaces as fresh mountain air. You are only a short drive from the beautiful Okanagon country of British Columbia, Canada.

Northeastern Washington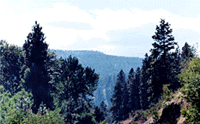 We don't associate Washington State with the Rocky Mountains. Even most Washingtonians are unaware that the Rockies cut through the northeastern corner of the state - possibly because the mountains here are called the "Columbia Mountains". No giant peaks (though some reach 7000 feet) but part of the Rockies nevertheless, and very scenic to suit.
The Bull Hill Guest Ranch is located in the foothills of the Rockies, just a short drive from British Columbia Canada or the Idaho panhandle. You can choose among Arabians, Spanish-Barb, Appaloosa, Buckskin, Palomino and Pinto although the Quarter Horse is the most prevalent. Trained as working cow horses, mounts are available for varying levels of riding experience.
There you have it. Four great locations for your Washington horseback vacation. There are more of course, but these are more than likely among the very best. Wasington State - a great place to visit, and a great place to live.
Back to Horseback Vacations
Back to Home Page