Western Saddle Types -
Getting the Right One for the Job
Choosing the right Western Saddle doesn't have to be all that complicated. Make knowing it's
intended use
your first step. Then you can focus on such things as rigging, make and model, and fit. But let's start by looking at the more common Western saddle types beginning with two broad categories -
saddles for pleasure riding, and

saddles for eventing, competition or work.
In the first category the focus is primarily on comfort in the second, it's performance.
We're not saying that if calf roping is the name of the game the rider shouldn't be comfortable, only that a roping saddle is designed with roping in mind.
And there are differences. A Cutting saddle will not be comfortable for longer rides and in competitive events the performance of horse and rider could suffer if a saddle designed for Trail Riding was used.
Let's take a look at a half dozen of the more popular styles and see which might be best for your purposes. It might be obvious or you might have a bit of a choice to make and want to research things a bit further.
But the following information will help you get to the next step.
*****
The Saddle Horn
Just a few words about a part of the saddle whose size an shape is of importance for certain saddle types and uses. That's been touched upon in the narrative above. But if you're a novice or a recreational rider, the rule of thumb for the optimum height and shape of the saddle horn is basically whatever you want it to be.
Most of us use the saddle horn as an aid in mounting and dismounting and something to hang on to when things get a little dicey. The horn is also a convenient for a pommel bag to carry small items like a camera or binoculars. Most of the time I don't pay much attention to the saddle horn but, like Linus' security blanket I would miss it if it wasn't there.
In some western movies cowhands lean on the horn when resting but I never found that to be particulary comfortable.
**********
While you'll find much of what you need to know about western saddles such as the increasingly popular Wade Saddle. on our other pages, if you're contemplating purchasing a saddle and trying to find out as much as you can (a good idea) it doesn't hurt to check out other sources as well.
A good source is the Western Saddle Guide.
The sections on saddle styles, parts and accessories are particularly informative, especially if you're not overly familiar with the functions and features of the western saddle.
**********
A Good Book About Saddles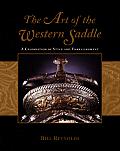 Now if someone is expecting a saddle as a gift, giving a book on saddles could be a mistake - to put it mildly. But for those who who have an interest in western saddles William Reynolds' The Art of the Western Saddle: A Celebration of Style & Embellishment would be a fine gift indeed.
This book, just recently published has received fine reviews. It's filled with detailed photographs and illustrations, and highlights the work of old-time makers such as Visalia Stock Saddle Company, Miles City Saddlery, and Edward H. Bohlin, along with many contemporary makers.
Saddles from the golden age of the Hollywood Western are featured including outfits belonging to Roy Rogers, Gene Autry, Barbara Stanwyck, and the Lone Ranger. If you wish to find more, clicking on the illustration will take you to the appropriate page on Powell.coms website.
*****
*****
Back to Main Saddle Page
Back to Your Guide to Gifts for Horse Lovers Home Page