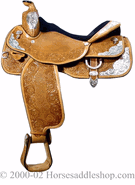 The Western Show Saddle
-
Hard to Resist
A good show saddle is like a Corvette.
It may be out of your price range, and it's likely something you really don't need, but it wouldn't take much in the way of a sales pitch to convince you to open your wallet would it?
Show saddles are fun just to look at, or drool over. Most any fine saddle on display in the local saddle shop is worth a look, a show saddle begs for examination! Just hope the floor salesman keeps at a distance while you're in a weakened conditon.
The typical western show saddle has a low horn, hand tooling is generally preferred (quality stamping is OK too, Crates does that), and you'll generally find silver on the skirt, swell and cantle.

The typical western show saddle shouts "buy me" -
which can place you at significant risk in committing the cardinal sin of saddle buying. You can become enamored with the beauty of the product and forget about the importance of proper fit, especially to the horse but also to yourself (seat size). Your horse isn't going to perform well in the show ring or along the parade route if the fit isn't right. But maybe I shouldn't be assuming everyone else has the same weaknesses that I do.
So, keep a tight grip on the checkbook or credit card until you're certain you're looking at a saddle that will be kind to your horse, and your seat as well.
Here's a selection of 10 quality show saddles from several highly regarded saddle makers. View with caution!
Go back to Western Saddle Types Page
Back to Your Guide to Gifts for Horse Lovers Home Page